Indicated for use for the treatment and relief of
cervical musculoskeletal or neurologic impairment.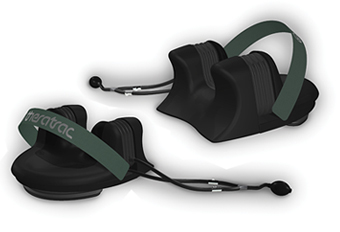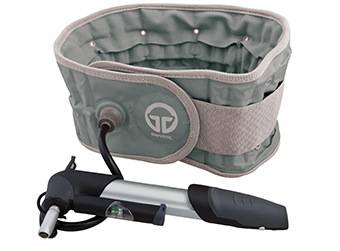 Additional Features
Clinical grade, designed for the home
Innovative and effective design
One Size Fits All (with the inclusion of three sizing insert pieces)
Pneumatic Cervical Traction Unit
The Theratrac gently stretches neck muscles allowing the vertebral discs to realign, freeing the nerve root tissue from the pressure of the discs. The theratrac helps "locked" neck muscles to slowly stretch and relax, allowing misaligned vertebrae to resume their normal supportive position.
The Theratrac cradles the head and neck via a curvature in the neck portion of the device, as well as a special head rest section that is vertically pneumatic. Both the headrest and neck region, inflate with over 30 lbs of adjustable pneumatic pressure to create traction in the cervical curve.
WAIST
14"-16"
16"-18"
18"-20"
Components & Accessories
Theratrac cervical traction device
Head strap
User instructions – cautions and warnings and operating instructions
Lumbar Traction Brace
A longitudinal force to the axis of the spinal column is the definition of spinal traction. In other words, pulling parts of the spinal column in opposing directions to change or stabilize damaged spine positions.
The Theratrac is an easy to use, highly functional, and very effective lumbar traction device, giving the user the ability to treat their condition at the most comfortable clinic on earth…their home.
Theratrac utilizes pneumatic bladder technology giving it the unique ability to administer a moderate lumbar decompression stretch, to gently contour the innate spinal path.
SIZE
SMALL
MEDIUM
LARGE
XLARGE
XXLARGE
WAIST
29"-33"
33"-37"
37"-41"
41"-45"
45"-49"